Earn an internationally recognized 120 hour in-class TESOL certificate through our trusted partner. Take advantage of this lucrative offer and spend four weeks either on the beautiful sands of Hua Hin or up in the mountains of Chiang Mai comprehensively learning about Thai culture and English language teaching.
Spend over 20 hours participating with a non-profit English camp and gain real teaching experience while strengthening the community. Exchange information, develop contacts, and establish meaningful relationships with fellow teachers to take with you on your journey. With 24 hour support from the team, confidently adjust into your new environment with comfort.
The 120 Hour In-class TESOL Will Give You:
  An internationally recognized 120 hour TESOL certificate
Instructor and peer feedback
Free TESOL course book
Free access to our Teacher Resources section
Teacher observations in the local community
Real teaching experience in a 2 day local non-profit English camp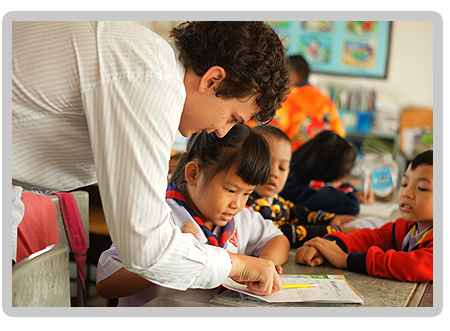 Key Learning Objectives
To develop an in-depth understanding of the concepts and principles of teaching English as a second language. This includes understanding the different theories of, and approaches to, teaching English, and particularly the XploreAsia method and its roots.
Understand how the process of second language development occurs.
Understand how the teacher's role changes depending on the type of student.
Develop a repertoire of routines, skills and strategies to teach English to people of all ages.
Develop the ability to plan structured lessons.
Gain confidence and familiarity with teaching TESOL through significant in-class and practical training.
From exploring ancient temples to volunteering at elephant sanctuaries, immerse yourself in Thailand's richest cultural offerings.  During the course of your stay, you will get an opportunity to experience a variety of exotic and thrilling adventures within the local community.
Feast in native fashion with a home cooked BBQ meal on beautiful coastal sands or spend an evening getting lavishly regaled with traditional Lanna cuisine in the hills of Northern Thailand during the special welcoming dinner party.  Take advantage of this festivity to learn more about your fellow teachers, the team, the course, and what to expect.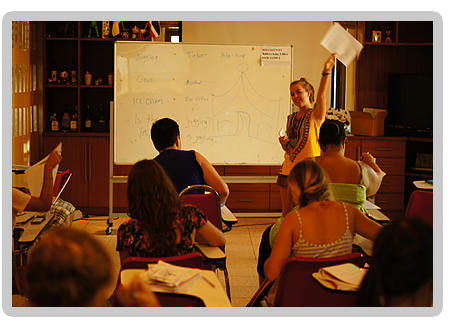 Course Break-down
Module 1: Introduction to TESOL, Thai culture and language training
Module 2: Theory and lesson planning
Module 3: Teaching grammar
Module 4: Teaching reading
Module 5: Teaching listening
Module 6: Teaching speaking
Module 7: Classroom management
START DATES
| | | |
| --- | --- | --- |
| 28 | September | 2015 |
| 26 | October | 2015 |
| 30 | November | 2015 |
| 28 | December | 2015 |
| 1 | Febuary | 2016 |
| 29 | Febuary | 2016 |
| 4 | April | 2016 |
| 2 | May | 2016 |
| 6 | June | 2016 |
| 4 | July | 2016 |
| 1 | August | 2016 |
| 3 | October | 2016 |
| 31 | October | 2016 |
| 28 | November | 2016 |
| 28 | December | 2016 |
AWARDS
Participants will receive an internationally recognized TESOL certificate upon completion of the 120 hour course. A grade of 83% or higher is needed to pass.
Week one
The first week of the course is devoted to comprehensive introductions on many topics encompassing Thai culture and language.
Thai Society (4 hours)
Overview of Thai history
Social Institutions
Gender relations
Major ethnic groups and relations
Regions of the country and distinctive local cultures
Thai Geography (2 hours)
Neighbouring countries and relations
Regions of the country
Thai Politics (2.5 hours)
Political situation
Major social movements and developments
Political institutions (Thai Monarchy, military, political parties)
Thai Culture (4 hours)
Cultural views on social life
Cultural views on work life
Do's and Don'ts when living in Thailand
Adapting to your new work life (building relationships with colleagues and bosses in the Thai context)
Thai Language (20 hours)
Basic introductions
Basic vocabulary
Vocabulary for shopping, bargaining, communicating with students and interacting with colleagues.
Homework (4 hours for the entire week)
There are light homework assignments each evening. These include reading Thai newspapers (English version) and reporting to the class on current events in Thai politics and society and discussing the relevance to the individual's journey as a English teacher in Thailand.
Week two
Spend time exploring lesson plan structure and how to teach grammar during the second week of the course.
Lesson plans are the detailed road maps of what students need to learn and how they are going to learn effectively during each class. Teachers have a duty to identify the challenges, learning objectives, and other factors required to properly lay out the procedures of a lesson.
Teaching grammar is a challenge for even the brightest linguists, those who have not brushed up on the subject in particular. As a major assignment during week two, renew your grasp of language structure by creating and presenting a full lesson plan for teaching grammar.
Week three
Produce and demonstrate a full lesson plan revolving reading, listening, and speaking during your third week in the course.
Not only is reading a fun in-class activity, it's also largely beneficial for the students. Improving reading skills allows students to build their vocabulary and encourage them to work at their own pace.
Week four
Analyze classroom management methods and make final preparations for a 2 to 3 day English camp for the duration of the fourth week. Learn how to appropriately set and apply ground rules in the classroom, and familiarize yourself with ways to earn and keep the respect of students.
A multiple choice and short answer examination will be conducted at the conclusion of the program