Thank you for your enquiry regarding our work and travel abroad program! We offer a guaranteed teaching job upon successful completion of our application. We cover all regions in Thailand and have many schools within our network. Securing a position as an English teacher in Thailand is a wonderful opportunity to gain experience working abroad while also earning sufficient income to travel within the country or surrounding countries.
Orientation and Short-Training Program
Attendance is required, even if you have already received a TEFL certificate from another country.  The orientation is designed to better prepare you for what to expect once you begin living and teaching in Thailand.
There are only 3000 THB service fees for this orientation program and guaranteed placement. However, teachers must be responsible for their own food and accommodation during the orientation. This money is non refundable
 The preparation course is 2 days of comprehensive training with professional TEFL instructors in a friendly and relaxing environment.  You'll get a chance to meet the Road Experience team, connect with your fellow teachers, and take everything you'll have learned throughout the course to teach an authentic Thai classroom.
The training includes: An introduction to Thailand, Teaching skills, developing lesson plans, Thai culture, school policy, and Thai language. You will also have an opportunity to practice working in a real class environment before you start working in your designated school.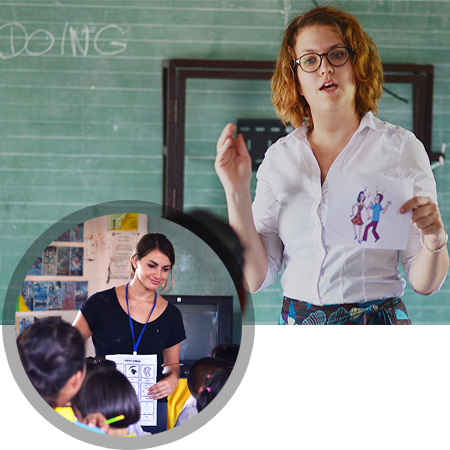 Typical Teaching Periods in Thailand
The first semester begins May to September

The second semester begins November to March

October and April are holiday periods for every school in Thailand. All teachers who sign a one-year contract (2 semesters) will get 3–4 weeks paid holiday during the October holiday break
 Requirements for Teaching English in Thailand
Native English speaker
(Passport holder from one the following countries: USA, Canada, UK, Ireland, Australia, New Zealand, or South Africa)

Age between 20 and 40

Degree holders preffered (non-degree accepted)

TEFL certificate (not required, but greatly beneficial)

Must sign a one-term contract minimum (one-year contract preferred)

Positive attitude
Non-B Visa and Work-Permit:
You must hold a Non-Immigrant B visa (Non-B visa) in order to apply for a Thai work permit. Therefore, before coming to Thailand, you should go to your nearest Thai embassy/consulate and apply for this type of visa. We will send you all additional necessary documents in order to apply for this visa.
If you are living in Thailand with a tourist visa or any other type of visa, you will have to sign a contract with the school and prepare the documents for leaving to a neighboring country in order to apply for a Non-B visa. You can do this in Malaysia, Laos, Cambodia, or Myanmar. This may be done once you have arrived to your new school.
Step by Step Application Process
 1 :
Read and fill out the application form.
 2 : Send our team the following documents:
Application form (completed)
Curriculum vitae (resume)
Formal photograph
3 : When all the documents are received, a Road Experience agent will contact you for a casual on-line interview.
4 : When your application is approved, our team will send you an acceptance letter and provide you with more information regarding placements, visas, and training schedules. You will also receive an invoice for 3,000 THB as a down payment to lock-in your position for the orientation and to reserve your placement
5 :
Reserving placement before traveling to Thailand. The placement coordinator will send you a list of available placements in accordance to your interests specified in the application form.  Rank each school and/or location in order of preference.  Our team will work hard to secure your top choice by sending your application to each school for review.
6 : After being accepted by a school, your placement will be confirmed and reserved.
Additionally, if you change your mind about your placement and want to relocate, you are free to discuss this with our team at the orientation.
7 : Choose whether to obtain a non-B visa from your home country before entering Thailand, or arrive here on a tourist visa and apply within one of our gorgeous neighboring countries. Our team will assist you with proper documentation for any path you choose.

8 : Make final preparations, questions, and briefings.